Reversim Israel 2017
Reversim Summit is an annual conference in Israel. The talks are almost exclusively in Hebrew, but this year there was a guest keynote speaker from the USA.
Videos recorded at the Rversim Summit in 2017 can be found on the Reversim site under the tag summit.
There is also a YouTube Playlist with Reversim Summit 2017 recordings.
Due to an accident I could not make public calls for the pre-conference sight-seeing, and even the hike after the coneference was only announced at the end of the first day so our party was much smaller than expected.
Sight-seeing in Jerusalem before the conference
On Saturday, the day before the conference, Randy Shoup and myself went to the old city in Jersualem and spent a nice day there. After we returned to Tel Aviv we ate way too much chocolate at Max Brenner.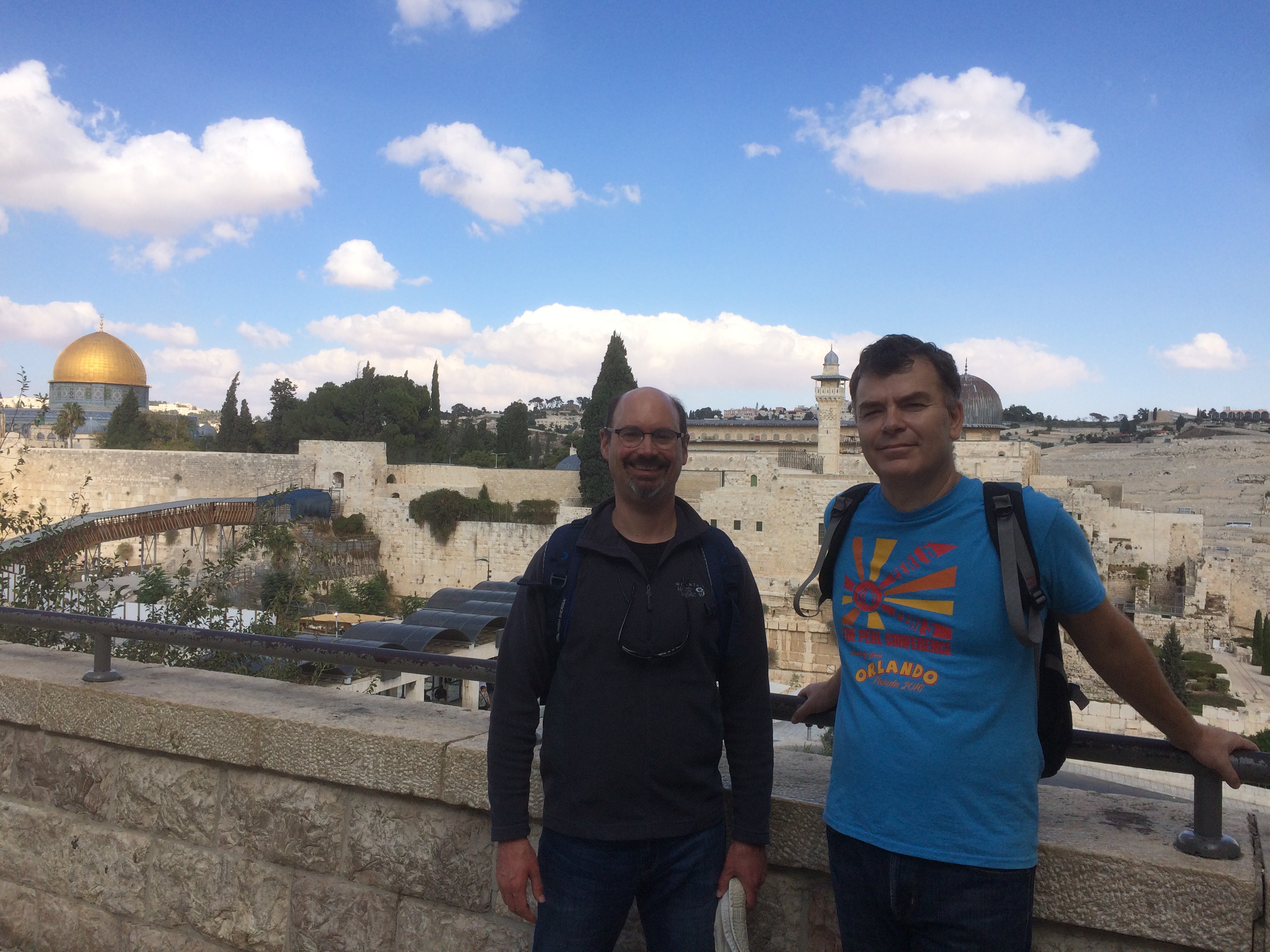 Randy on the left, Gabor on the right.
Hike in Nahal David - Ein Gedi and floating in the Dead Sea
We arrived to Nachal David near Ein Gedi on Wednesday at around 11:20 with Randy Shoup. In the summer it would be impossible to make the hike starting at that hour, it would be way to warm, but in mid-October it was "only" 35 C. It was also a bit windy that made the hike more pleasant.
We took the same route as mapped here:
It took about 2.5 hours. (Pictures will be included soon.)
We had some sandwitches and finished a bottle of water. Yeah, one needs to drink a lot there.
Then headed over to Ein Bokek the "hotel area" in the southern part of the Dead-Sea. This is an excellent place to swim, or rather float in the Dead-Sea. They also have nice showers so we could wash off the salt. We spent there about 2 hours and then at around 17:00 we headed back to Modiin where we had a nice plate of Humus and finished off with some Malabi at Humusim.
Other Events
Check out the hikes after other events.